COALA – YOUR FACTORY ASSISTANT
A Trustworthy
Voice-Enabled Digital Assistant
for the Manufacturing Industry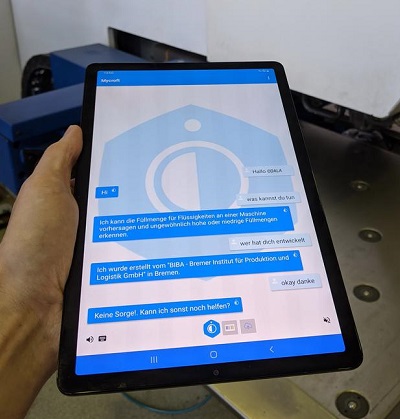 SOLUTION

Human-AI collaboration

AI-focused education and training concept

Change management process
KEY ENABLERS
Augmented Manufacturing Analytics
A set of DIA functions interfacing the prescriptive quality analytics service connected to shop floor data sources. It will enable non-data-scientist workers to utilize and customize data analytics during product quality tests.
AI-assisted on-the-job training for new workers
A set of DIA functions interfacing the cognitive advisor service that accesses shop floor data and adapts to the learning progress of the user. It will enable machine operators and production line managers to become effective faster, which will speed up changes in manufacturing.
Digital Intelligent Assistant core
The core functions of the Mycroft-based assistant such as reliable language processing, mobile usage, and secure integration in the production IT landscape. It will provide evidence that an open digital assistant can support manufacturing.
WHY engine prototype
The new, experimental solution component that will allow the assistant to answer "why" questions concerning advices and predictions provided by the DIA. It will increase trust in the applied AI-based functions.
Change management process for AI-collaboration
This complements the technology deployment and seeks to prepare middle-managers and other decision-makers for opportunities, challenges, and risks related to using digital assistants in the shop floor. Means to increase the acceptance of the COALA solution, avoid mistrust, and reveal new barriers concerning the use of digital assistants in industry.
Didactic concept for new worker education in AI collaboration
This is a set of instructions, competencies tests, and learning materials for education facilities to teach shop floor (blue-collar) workers competencies in managing AI opportunities, challenges, and risks. It will allow education facilities and companies to better prepare their labor force for human-AI collaboration.