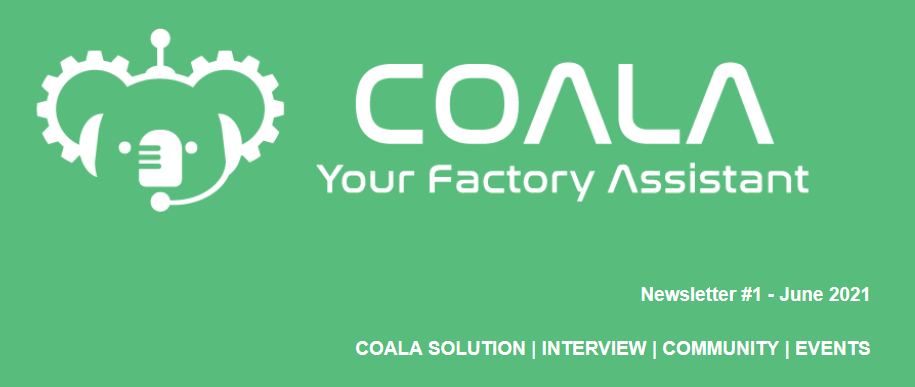 Welcome to COALA Newsletter June 2021
Dear reader,

I am delighted to introduce this first edition of the COALA newsletter. COALA – COgnitive Assisted agile manufacturing for a LAbor force supported by trustworthy Artificial Intelligence – is an EU Horizon 2020 funded project, which aims to develop a trustworthy voice-enabled Digital Intelligent Assistant for the manufacturing industry.

We intend to make this newsletter a regular publication and to use it to keep you in touch with news and developments related to the COALA project and its progress. In this and future editions, we shall be reporting our progress in the technological implementation of COALA solution in different business cases as well as any upcoming activities and events.

We hope that you will find our newsletter interesting and useful.

Enjoy reading our newsletter!
---
SOLUTION
A Trustworthy Voice-Enabled Digital Assistant for the Manufacturing Industry

The COALA vision for AI in manufacturing is the development of human-centred Digital Intelligent Assistant that provides a more proactive and pragmatic approach to support operative situations characterized by cognitive load, time pressure, and little or zero tolerance for quality issues.

COALA will help shape the complementarity in the collaboration between the AI-based digital assistant and the human so that:
– The AI will performe time-consuming and stressful tasks reliably and credibly
– The human will focus on understanding and problem-solving in complex and knowledge-intensive situations.

COALA's AI-focused education and training concept will support the human-side of the collaboration by providing concept for teaching professionals systematically and, in the language of the workers, about the capabilities, risks, and limitations of AI in manufacturing.
We will develop a solution for cognitive assistance consisting of a composition of trustworthy AI components with a voice-enabled digital intelligent assistant as an interface. The solution will support workers that need to use analytics tools and new workers that perform on-the-job training.

We will develop an education and training concept focusing on building blue-collar worker competencies in human-AI collaboration. The COALA solution will transform how workers perform their jobs and allow companies to increase their production process and product quality.
Stefan Wellsandt
Project Coordinator
BIBA – Bremer Institut
für Produktion und Logistik GmbH
---
INTERVIEW
Human-AI Collaboration in Quality Control of White Goods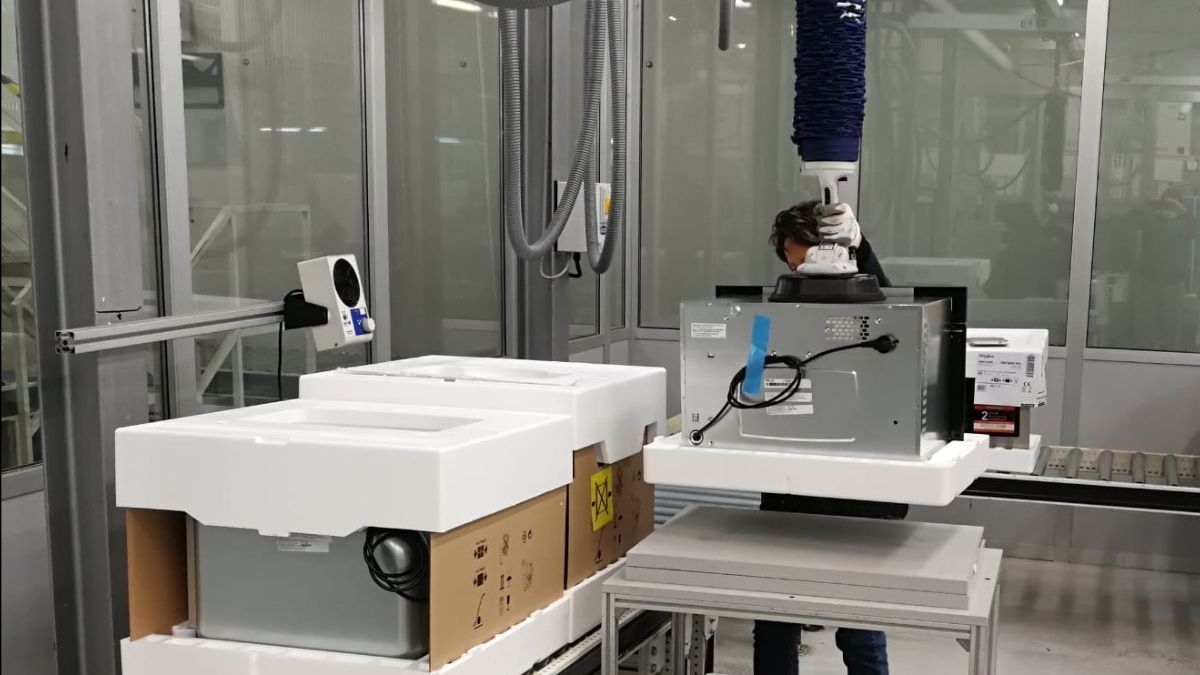 The COALA solution will be deployed and validated against three industrial use cases: (1) white goods, (2) textile and (3) detergent productions.

In this newsletter's edition, we interviewe a project partner from Whirlpool Corporation, Enrica Bosani, Manufacturing R&D Project Manager. The Whirlpool use case is focused on the implementation of the COALA Digital Intelligent Assistant (DIA) to support the activity in the Zero Hour Testing (ZHT) laboratory of the Microwave and Oven (MWO) factory. She shares her views with us on the challenges related to quality control at the ZHT laboratory and potential benefits of implementing the COALA solution.
What are the main challenges in the quality check process of the finished products so far?

The ZHT is a statistical quality check on functional and aesthetical aspects applied in a dedicated laboratory environment out of production flow on some finished products (MWO).

Currently, the procedure is executed manually by a Laboratory Operator and it is fixed, and statically defined during the process design phase both for what concerns checklist and reference parameters, and for statistical product withdrawal rate.

This ZHT procedure is then executed in the mass production phase of the product lifecycle as a prescriptive list of elements that are rarely modified, generally only in case of relevant quality issues triggered by KPI monitoring and control alerts or by relevant market issues.

In any case, this review is, generally, not re-looping the product design process, limiting the reaction scope on mitigation actions at the production level and reducing the possibility to anticipate similar quality issues for other products in development.

This approach, not guaranteeing the identification of all the defective products exiting from production lines, leads also to products that experience No-Fault-Found (NFF) effects in the warranty period. This late identification during usage leads to increasing costs of warranty policies and customer dissatisfaction.

Moreover, the quality control at the very last stage of the production process constitutes mainly a reactive approach aiming at averting the delivery of defective products to customers and at correcting inefficiencies in the production process for the next batches.
How will COALA improve your quality performance?

We expect that the COALA Digital Intelligent Assistant (DIA) effectively supports the ZHT operators to execute the quality check on finished products as well as to capture potential quality defects, to be identified by COALA's predictive analytics function based on the available quality data set and afterwards to suggest the ZHT operators the right actions.

Currently, the ZHT operators execute the quality control based on their own experience and memory, referring to a predefined and statistical quality checklist. When a new product is introduced, dedicated training has to be set up. For each product to be tested, COALA automatically executes a quality risk assessment on available historical data to provide recommended additional control steps in case of identified high-quality risk for a specific defect.

The COALA DIA is expected to replace the current manual digital input of identified defects into the legacy systems or of positive control results by leveraging voice control. The operators can accept or refuse recommendations provided by COALA. In case of refusal, they should provide an explanation. Their feedback should then be used by COALA to improve future recommendations.

Moreover, COALA will support the operator's skills and competencies development by 1) adapting the checklist level of details to the current knowledge level of the operator and 2) transferring the knowledge of experts to novices.

The COALA solution will allow capturing the operator's knowledge and experience, making it available to Whirlpool's quality organization to boost cross-functional improvement actions (production and product development).
---
COMMUNITY
Join our community!
COALA aims to actively contribute to the EU AI communities and help build a connected AI community across Europe.

As a first step, a task force for Digital Intelligent Assistants in manufacturing has been setup in the AI4EU Platform. Through this platform, we can exchange information, discuss various aspects, such as ethics, challenges and values-added and create opportunities for exploitation. We would like to take this opportunity to invite you in COALA's group on the AI4EU Platform.

Moreover, COALA collaborates in the AI-MAN Cluster with other eight projects that are funded under the EU H2020 ICT-38 call – Artificial intelligence for manufacturing. The aim is to identify technologies and development practices for trustworthy human-centred AI in manufacturing.

Other activities involving Digital Innovation Hubs (DIHs) across Europe are also planned in the future, such as workshops and showcase events to work towards adoption of COALA's results.

Sign up to our newsletter, stay informed about our activities and follow along as the project evolves.
---